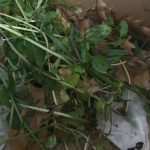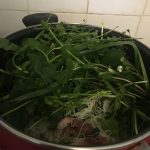 When I tested and realized the recipe "Ramen" at 13 herbs for the candlemaker! , I found myself with many leftover plants used as ingredients.
Leaves, stems and flowers of leeks, mustard, cabbage, radish, cardamine, plantain .... And why throw them away?
Remains of vermicelli?
The same day, surprise guests at noon ...
Come on, we take it all, put it in the pot, let it simmer a little ... And mix to make a soup. Hmmm they loved it.