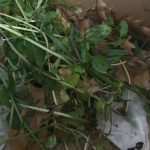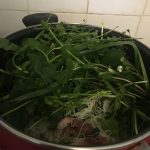 When I tested and realized the recipe « Ramen » au 13 herbes pour la chandeleur! , je me suis retrouvé avec de nombreux restes des plantes utilisées comme ingrédients.
Leaves, stems and flowers of leeks, mustard, cabbage, radish, cardamine, plantain .... And why throw them away?
Remains of vermicelli?
The same day, surprise guests at noon ...
Allez hop, on prend tout ça, on les mets dans la marmite, on laisse mijoter un peu… Et on mixe pour en faire une soupe. Hmmm ils ont adoré.