Saturday 27 January, walk to the pond of Biguglia and picking obione and samphire.
In the company of the association Glory of Hope Together Against Illness and the guides and officials of the nature reserve, we had the very good surprise to discover this place and to forge new relationships for the evolution of the association A Natura Anima. We were able to inventory some wild edible plants present in the natural state in the reserve during this walk. We picked some plants outside the protected area.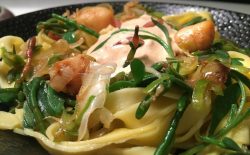 And the result of this gathering,
it's a tasty dish, here's the recipe:
Tagliatelle scallops with wild leeks with obione, salicornia and coral colored soy cream
The obione (wikipedia link) and the samphire (wikipedia link) being naturally salty plants, I limit the salt when I use them in cooking.