Saturday 27 January, walk to the pond of Biguglia and picking obione and samphire.
In the company of the association Glory of Hope Together Against Illness and the guides and officials of the nature reserve, nous avons eu la très bonne surprise de découvrir ce lieu et de nouer de nouvelles relations pour l'évolution de l'association A Natura Anima. Nous avons pu inventorier quelques plantes sauvages comestibles présentes à l'état naturel dans la réserve pendant cette balade. Nous avons cueilli quelques plantes en dehors de la zone protégée.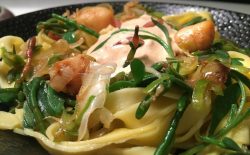 And the result of this gathering,
it's a tasty dish, here's the recipe:
Tagliatelles noix de st jacques aux poireaux « sauvages » avec obione, salicorne et creme soja coloré au corail
The obione (wikipedia link) and the samphire (wikipedia link) being naturally salty plants, I limit the salt when I use them in cooking.